In late 2017 as Glenn, K2FF and I continued to expand the NA5NN contest station at my QTH in Lumberton we decided it was time for a second tower. I had recently taken an old Cushcraft 40-2CD 2 element 40M mono-bander and modified it to a Moxon design based on W6NL's conversion. We wanted one tower for the primary 10-20M antenna, a Tennadyne and another for the 40M Moxon. The T8 was currently installed on my Rohn 25G tower and I had acquired a full-sized free standing Rohn BX-64 tower. We decided to utilize the BX-64 for the T8 due to its smaller size/weight and put the big Moxon on the 25G. We finally got around to getting the BX-64 in the ground in Dec, 2017. The following photos and descriptions documents setting the base.
So, it all starts with a hole, and this tower takes a BIG one to provide an adequate foundation. I needed something roughly 6'x6'x34″ deep. Another 599 DX Association member, Curt – N5CW lives nearby and has a tractor. Curt was kind enough to come out and dig the "raw" hole with his backhoe attachment a few weeks earlier. This was a major help!! In the 3 photos above Glenn and I spent the better part of a day in mid-Dec "dressing" it up, making it square and level at the bottom. The depth of the hole itself was a little over 24″ but we had decided to box and frame it with plywood and 2x4s to bring it up to the full 34″ depth.
A few months earlier at the Huntsville Hamfest I had found these BX tilt-base supports. I was really interested in a tilt solution if at all possible and Glenn and I had discussed a few options for assembling the entire 64′ on the ground and then raising. Even if we couldn't get the entire 64′ assembled and raised, any sections we could attach on the ground would make installation easier. More on that later. I got these at a really good price but they were not the heavy duty style that Rohn makes for the full BX-64 tower base. However, a little improvising of attaching these 1/4″ thick aluminum plates to each leg with a "U" bolt gave them a lot more "holding" strength in the cement.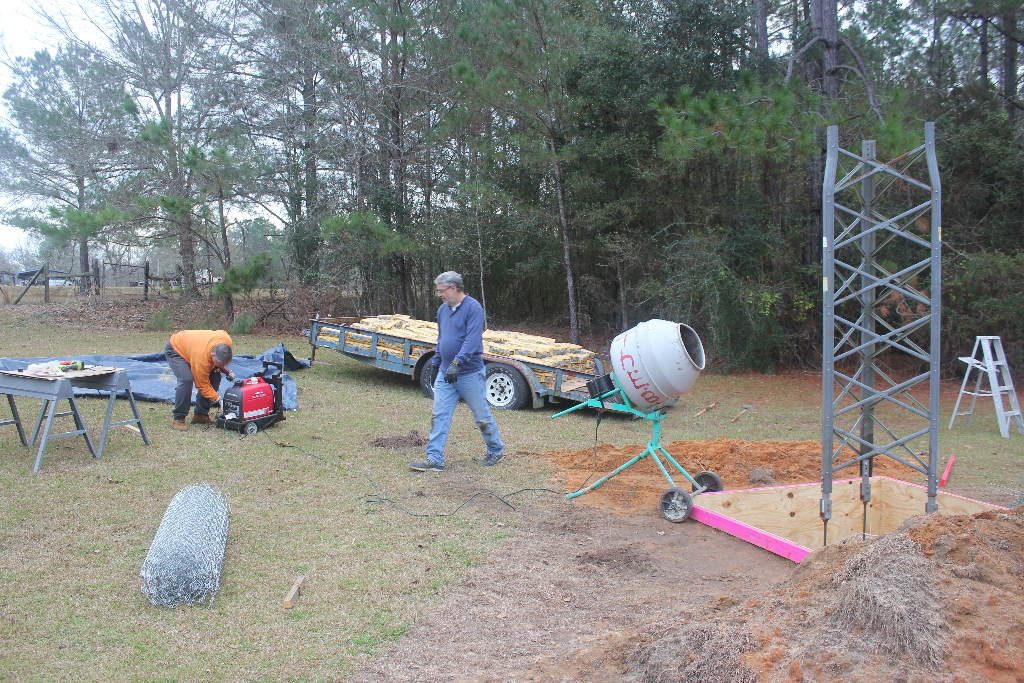 So, how much Quickcrete does it take to fill a 6'x6'x34″ hole?? The answer is 165 80 lb bags!!! I have a REALLY good neighbor, Tony Pigeon. Not only did he offer to use his trailer and truck to haul the bags from Hattiesburg but he also let us use the electric mixer and most importantly, was there with us on pouring day. A few days before we had scheduled to pour Tony and I went and picked up the Quickcrete. We were having showers on and off that week and it looked like these few days wouldn't be too bad. But I still covered the trailer with a tarp just in case we got a sprinkle before we poured, which we did.
The day before we poured the pad Glenn and I positioned the base section with supports attached to the legs. The two of us were able to lift the section and gently lower it into the hole. We used cinder blocks and bricks to raise the legs up high enough to where the bottom of the "L" section of the leg braces where the pipe attaches would be right at the top of the pad. Those pieces of sheet aluminum I had attached to the leg bars were a big help here. We had done our best to get the bottom of the hole as level as possible but it still took a little dirt here and there under the cinder blocks to get the base section level and plumb. We checked, adjusted, checked again, adjusted again several times until we were certain that the base section was plumb and the bottom of the leg supports would be flush with the concrete pad. Both CRITICAL factors. Bottom middle photo shows that there is NO graceful way for a 60ish ham to climb out of a 3′ hole!!!
Pouring day had finally arrived. Glenn is getting an early start on grinding off protruding screws and W5UE's grandkids look on in wonder. In the top right photo you can see where we improvised strength materials. We had some chain-link fencing and cut it into strips. These were laid around the tower base and in sheets every foot of concrete from bottom to top. The electric mixer was a great help allowing us to mix about 2 bags at a time but the motor overheated on us every 30 minutes or so of run-time so we would revert to the old wheel barrow method while it cooled off. This was several hours of back breaking work, even when using the mixer and I am eternally grateful to Glenn and Tony for lending a hand.
We are FINALLY done with the pouring… Glenn informs Randy… "Check all you want but if it ain't level there's not much we can do about it now!!!". And three tired and sore guys. L-R: Randy – W5UE, Glenn – K2FF and Tony (non-ham). Thanks to Randy's wife Kathy for much of the photography. Nothing to do now other than let it cure for a month or so and schedule a tower/antenna raising party.